Our Products
Disinfecting & PPE Products
EVE uses three different disinfecting solutions: Bioesque Solutions, Benefact Decon 30, and Fresh Start 999 (tml, cit, OLc). These are all hospital grade, plant-based, non-toxic solution that disinfects, sanitizes, cleans and deodorizes in one step. These are botanical based, non-abrasive solutions. These kill 99.9% of viruses in just minutes, which makes our service not only safe, but also quick and efficient.
Some important information about our disinfecting solutions includes:
Kills Norovirus in just 4 minutes.
EPA Registered Broad-Spectrum Disinfectant.
Kills 99.9% of Bacteria, Viruses, Fungi & Molds.
Bactericidal, Virucidal, Tuberculocidal, and Fungicidal.
Sanitizes soft surfaces in just 2 minutes.
Eliminates 99.9% of most Allergens upon contact.
Kills bacteria that can cause food poisoning.
One-step hospital disinfectant cleaner.
Non-abrasive and non-corrosive.
Non-flammable – No harmful chemicals.
Cleans and disinfects without bleaching.
Free from Chlorine and Phosphates.
Pleasant lemongrass grapefruit scent.
Effectively controls unpleasant, strong odors.
Botanically derived active ingredient.
Formulated with patented technology.
Effective in restoration and remediation.
Formulated without phthalates, propylparaben, butylparaben, formaldehyde, formaldehyde or NPE's.
Our Solutions Are effective in killing 99.9% of the following bacteria and viruses:
Bacteria:
Staphylococcus aureus
Methicillin-resistant staphylococcus aureus
Salmonella enterica
Pseudomonas aeruginosa
Vancomycin-resistant enterococcus faecalis
Methicillin resistant Staphylococcus epidermidis (MRSE)**
Tetracycline Novobiocin Streptomycin resistant Staphylococcus aureus (TNSR)
Gentamicin Methicillin resistant Staphylococcus aureus
Penicillin resistant Staphylococcus aureus (PR)
Mycobacterium Bovis BCG (TB)
Viruses:
Pandemic Human Influenza A (H1N1)
HIV-1
Influenza A3 Virus (Hong Kong)
Vaccinia Virus
Human Rotavirus
Respiratory Syncytial Virus (ATCC VR 26)
Fungi
Trichophyton interdigitale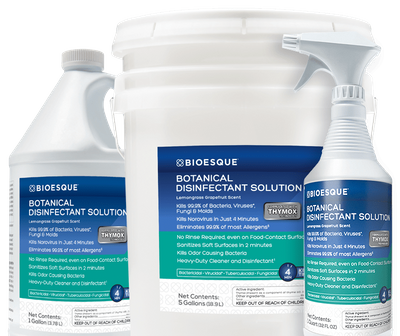 Bioesque Solutions
Bioesque Botanical Disinfectant Solution utilizes Thymol, an all-natural antimicrobial agent from the thyme plant that will combat any infection-causing germs. It is registered by the Environmental Protection Agency, for use against SARS-CoV2, the virus that causes COVID-19. Bioesque is a non-toxic yet incredibly powerful cleaning, sanitizing and disinfecting.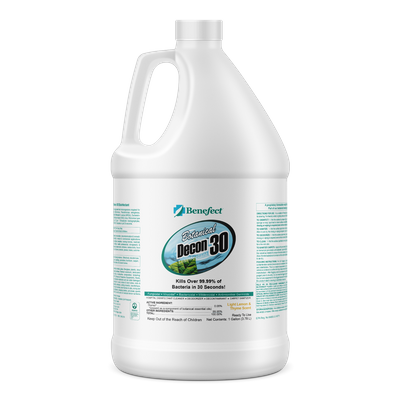 Benefect Decon 30
Benefect Decon 30 is a ready-to-use (no messy mixing required) EPA registered botanical disinfectant, cleaner, bactericide, virucide, fungicide. The active ingredient (Thymol) is an extract from essential oils of the thyme plant. There are no human health warnings or precautionary statements for use or disposal - no need to rinse or wipe off after application. Personal Protective Equipment is not required.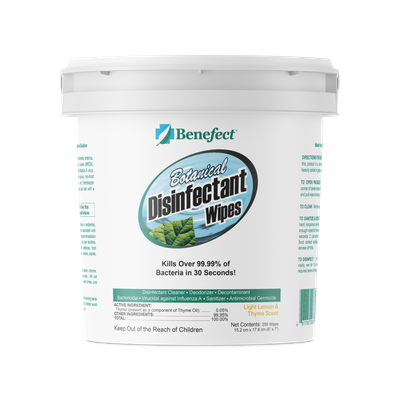 Benefect Botanical Disinfectant Wipes
Combining the same proprietary Botanical Active Ingredient Benefect is known for – Thymol, with a new, extremely durable, wood pulp wipe, creates a Restoration Grade product that is strong enough to tackle rough surfaces like wood and concrete with no shredding, pilling or lint left behind.
Adding the Benefect Decon 30 platform to a dense woven wipe also gives it a distinct foaming advantage that ensures longer contact time to kill germs and improved visibility of surface coverage over conventional wipes. Surfaces are left clean and decontaminated with no streaky residue.
Ideal for decontamination, preventing cross-contamination, cleaning, disinfecting and deodorizing surfaces such as equipment, PPE, or building contents. Also ideal for controlling the spread of germs by disinfecting high-touch areas in residential or commercial cleaning.
Like all Benefect products, only authentically sustainable components and botanical ingredients are used. The Benefect Wipe does not contain any silicone, binders, filler or other chemical additives.
No synthetic chemicals
No label warnings or precautionary statements
No PPE required for use (environmental conditions may dictate otherwise)
No rinsing after application is required
Sign Up For Our Newsletter